Ferrari Roma Performance: Specs Meet Style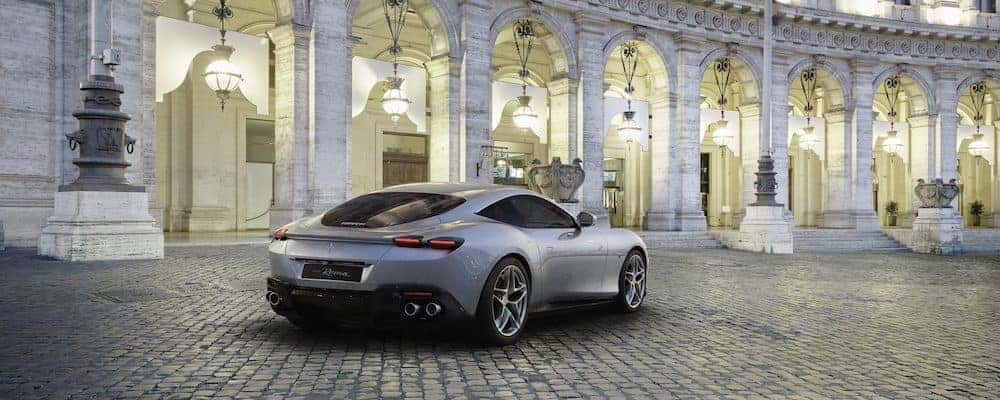 The Ferrari Roma specs help to elevate it above other vehicles while embracing the classic styling of the Ferraris that came before it to create a truly unique car for the modern world. Named for the capital of Italy, the Roma is appropriately regal while remaining approachable. Designed with an eye for elegance and simplicity, the Roma has been engineered to be an ideal automobile.
Roma Performance Specs
Underneath the hood of each Ferrari Roma is a time tested engine: this 3.9L V8 won International Engine of the Year for the last four years.
Power: 611 hp @ 7,500 RPM
Torque: 561 lb-ft @ 5,750 RPM
It may be the same award-winning engine, but that doesn't mean it's without updates. The Roma's V8 includes new bypass valves and variable boost management — as well as the removal of engine silencers so your Ferrari can truly roar.
Aerodynamics
If you're comparing those specs to a vehicle like the SF90, they might come up short, but that's because the Ferrari Roma is as concerned with aesthetics and elegance as it is with specs. The SF90 is engineered to max out the engine leading to technical aerodynamic elements that might not appeal to drivers who prefer a classic, curvy design.
Wind testing and aerodynamic engineering went into the Ferrari Roma, of course, but here they are as much functions of design as performance. Each clear line of the body has been placed for aesthetics as well as aerodynamics. The mobile rear spoiler offers a unique profile when cruising around town compared to hitting those top speeds. When driving at high speed, the spoiler automatically deploys for increased downforce, working with a pair of vortex generators to keep you stable and in control.
Discover the Roma at Ferrari Lake Forest
Do you have questions about the Ferrari Roma specs? Want to see its dual-cockpit design for yourself? Contact Ferrari Lake Forest today to learn more about driving this head-turning auto around Chicago.
More From Ferrari Lake Forest