Ferrari Roma Interior Design & Features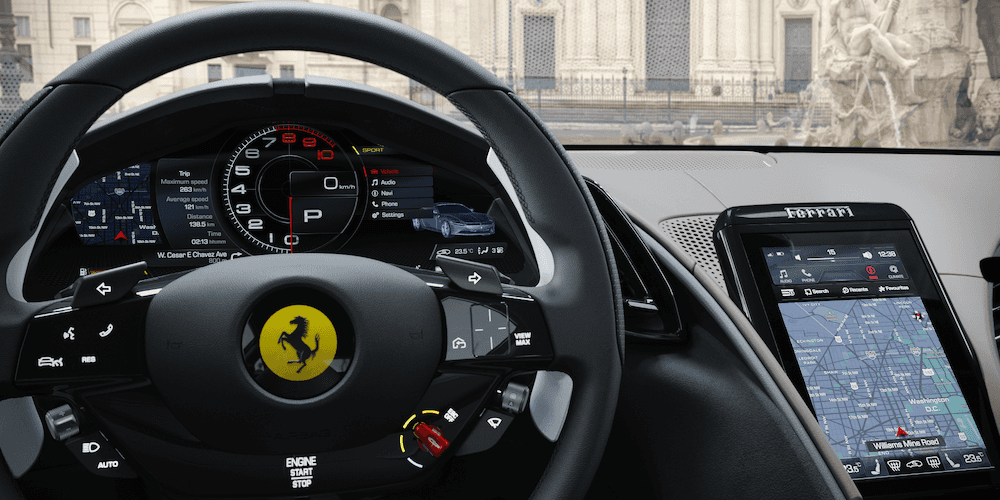 Ferrari's new mid-front-engined 2+ coupe features refined proportions and timeless design that is sure to draw attention around Chicago. While that's obvious from looking at the vehicle, placing yourself inside the cabin and experiencing the Ferrari Roma interior firsthand proves it is timeless from tip to tail, inside and out.
Roma Design
The Roma's design was inspired by the sporty elegance of the 1960s' grand touring Ferraris. Their simple and elegant forms defined that era, and the Roma speaks the same design language — with a modern accent. The power of an award-winning twin-turbo V8 engine is cloaked beneath perfect proportions and pure, refined style. It's this aesthetic that carried over to the cabin of the 2+ coupe.
Roma Cockpit
The Ferrari Roma interior is an evolution of the Dual Cockpit concept, defined by driver and passenger safety cells. By organically distributing functions across the cabin, the Roma creates a seamless experience that melds driver and vehicle. The symmetry of the design ensures that your passenger will feel as if they, too, are piloting one of the world's finest automobiles.
Drivers can configure their Ferrari Roma with standard, Daytona, or Diamond Stitching seats with hundreds of interior color and design combinations.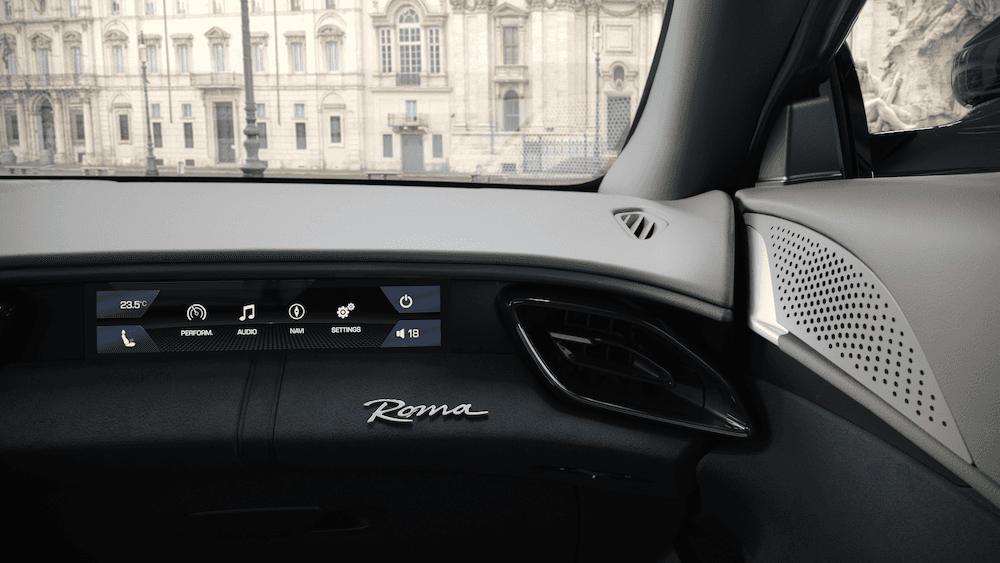 Roma Interior Features
Infotainment: Engineered for intuitive controls, and 8.4-inch vertical screen sits between the cockpits and offers quick access to entertainment, vehicle settings, and climate control.
Haptic Controls: The Ferrari Human-Machine Interface (HMI) underwent a complete redesign for the Roma, placing all of the Roma's main commands within reach of the driver's hands while they're on the wheel.
Passenger Experience: In the passenger's cockpit is an 8.8-inch full-color HD touchscreen with vehicle performance data. Your passenger can also manage vehicle systems, from climate control to satnav to music, making them more of a co-driver than a passenger.
Learn More with Ferrari Lake Forest
The Ferrari Roma interior is a work of art as much as a work of tireless engineering and design — which means words can only go so far. Chicago drivers looking to discover the Roma for themselves should contact Ferrari Lake Forest today.
More From Ferrari Lake Forest