The History of the Ferrari California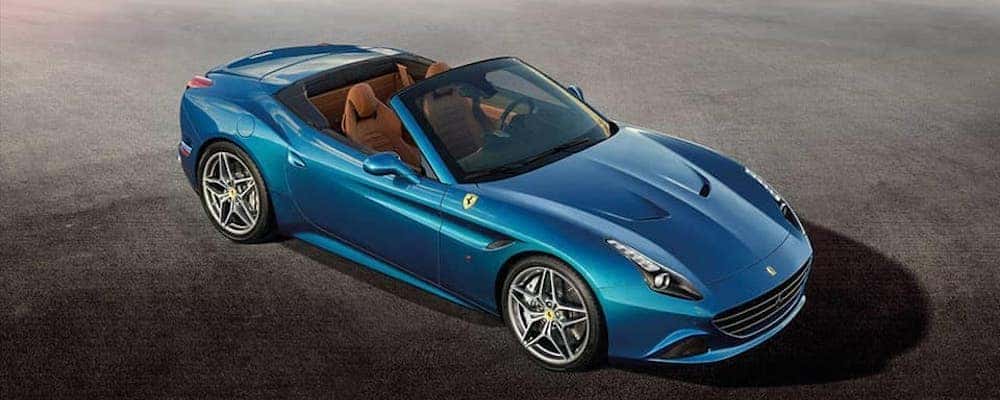 Introduced as an entry-level Ferrari in 2008, the Ferrari California bore an abundance of new features and design innovations. Built as a modern successor to the Ferrari 250 GT California Spyder of the 50s and the Ferrari 365 California of the 60s, the Ferrari California represented a fourth model range for the automaker: the front-engine, eight cylinder grand touring sports car.
Crafting the California
Launched at the October 2008 Paris Motor Show, the Ferrari California represented a radical new design that incorporated a number of new concepts showcased for the first time in a production model:
The first front-mounted V8 in a Ferrari
The first Ferrari with a 7-speed dual-clutch transmission
The first Ferrari hard-top convertible featuring a folding metal roof
The first Ferrari to feature a multi-link rear suspension
The first Ferrari engine with direct fuel injection
Initial 4.3L V8 engines produced 453 hp and 358 lb-ft of torque, and its excellent handling is due in large part to its weight distribution: the front-mounted engine allowed for a 47% front / 53% rear distribution of weight. The original California features a top speed of 193 mph and 0-62 mph in under four seconds.
Available as either a 2+2 or simply a 2+, doing away with the rear seats in favor of a storage bench. Approximately 10,000 Ferrari California models were produced between 2008 and 2014, when the Ferrari California T made its debut.
Birth of the Ferrari California T
The Ferrari California T did not debut at an auto show; it made its arrival online on February 12, 2014 nearly a month before it could be seen in person at the Geneva Motor Show. The "T" is representative of the twin-turbocharged engine delivering upwards of 553 hp and 557 lb-ft of torque, but the powertrain is simply one upgrade to the California. Its variable boost management system was engineered precisely to reduce turbocharger lag and deliver improved performance.
Other updates for the California T included:
Revised chassis and body features
New sheet metal
New interior design and features
Innate Apple CarPlay functionality
The well-reviewed California T has since given way to the Ferrari Portofino.
Discover Yours at Ferrari Lake Forest
Whether you're searching for a specific Ferrari California in our Ferrari Approved pre-owned selection, a new California T, or the California's successor, the Portofino, Ferrari Lake Forest can help. Contact us to learn more about the modern California or to let us know you're keeping an eye out for a particular classic California model.
More From Ferrari Lake Forest
The 2023 Ferrari 296 GTB is the perfect balance between classic and modern. It features the usual Ferrari formula of a mid-engine performance vehicle that's ready for days at the track while also offering innovative technology to ensure your drives around Chicago are both comfortable and exciting. With so much to appreciate about the…

From the latest Ferrari models to classic Ferrari vehicles, driving around Chicago in a Ferrari is a memorable experience that you won't forget. But, what if you want to bring along friends and family with you so that they too can experience what it's like to be in a Ferrari? Soon, you'll be able to…

Driving a Ferrari around Chicago draws plenty of attention because of the level of engineering and precision that a Ferrari offers. From the beginning, Ferrari has dedicated itself to providing vehicles that deliver a memorable experience and you'll still find plenty of exceptional Ferrari models to choose from for your Indianapolis, IN drives today. …