Ferrari California Reviews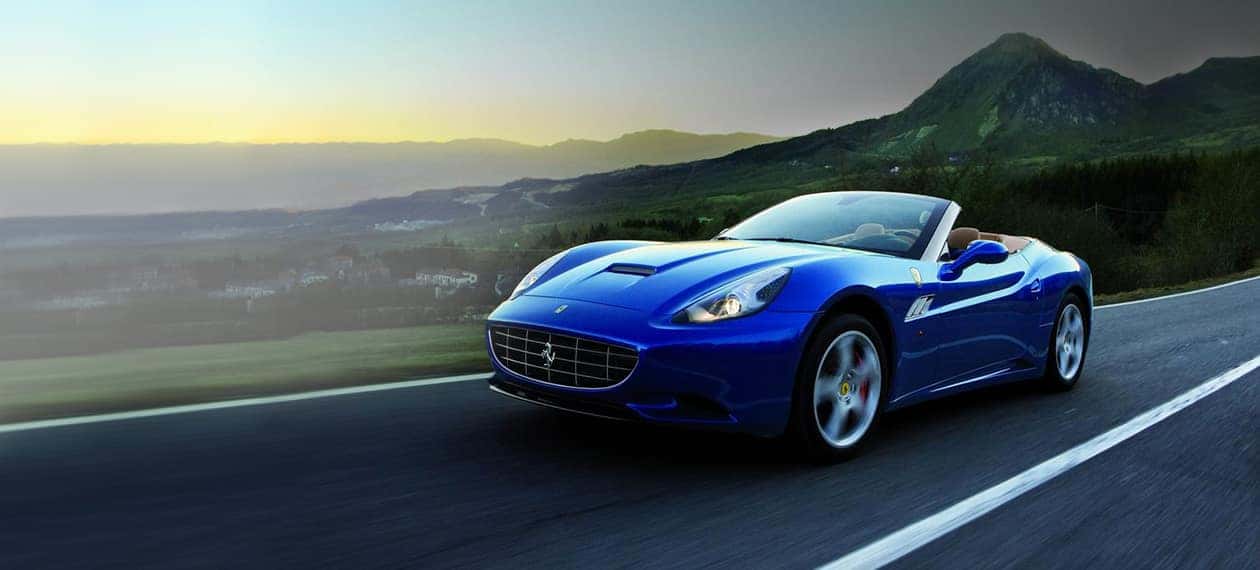 As the Ferrari California drove into the sunset, Motor Trend bid it farewell, saying "the number of compliments [we received] seemed to increase when the power-folding hard top was down." The Ferrari California reviews marked it as a beloved automobile from its debut to its evolution into the Ferrari California T. We're here to highlight the Ferrari California reviews that made it a favorite around Chicago — and that led to the California's current successor: the Ferrari Portofino.
Critics' Ferrari California T Reviews
While Motor Trend bid farewell to the old California, they also were very welcoming in their Ferrari California T reviews — as were Top Gear, Autoweek, Evo, and more.
Motor Trend: "The ride was excellent, the magnetorheological shocks sharpened the handling, and the interior was better. Even the rear seats were improved. [We] also discovered that Ferrari's extensive wind-tunnel testing paid off in top-down driving. The California was both exhilarating and civilized."
Top Gear: "This is still a Ferrari engine, pure and raspy in its sound and venomous in its response … in the upper ratios, there's the full wave of relaxing torque. So it can be a rev-happy supercar one minute, relaxed cruiser the next, depending on your mood. You can manage the quick-witted DCT transmission yourself, or let the auto program take over."
Autoweek: "The T with the Handling Speciale package feels good. We drove it along the Italian Riviera, cruising like vacationing oligarchs through off-season beachside townlettes before zipping up into hills still dusted with salt used to clear snow from a recent late-winter storm. Ferrari made clear that the California T, even with the HS option, is still a grand touring car."
The Guardian: "Drive it, especially fast, on a country road with undulation, corners, scenery and tractors, and you will understand the drooling. This car is so responsive, it feels like it's reading your mind. It is somewhere between having an aeroplane and a superpower."
Evo: "This new V8 is as impressive as forced induced engines come and the gearbox is remarkable; each new gear seems to bang in before you've even fully pulled the paddle. There is no discernable turbo lag and the top end is just as usable as the mid-range."

Give Us Your Ferrari California Reviews
Have you driven a Ferrari California? We want your reviews — and we want to know how you think the California and California T compare to the Ferrari Portofino reviews. Contact us today to talk shop on these iconic autos with Ferrari experts who know them from tip to tailpipe.
Learn More About the Ferrari California
As the Ferrari California drove into the sunset, Motor Trend bid it farewell, saying "the number of compliments [we received] seemed to increase when the power-folding hard top was down." The Ferrari California reviews marked it as a beloved automobile from its debut to its evolution into the Ferrari California T. We're here to highlight…

Introduced as an entry-level Ferrari in 2008, the Ferrari California bore an abundance of new features and design innovations. Built as a modern successor to the Ferrari 250 GT California Spyder of the 50s and the Ferrari 365 California of the 60s, the Ferrari California represented a fourth model range for the automaker: the front-engine, eight cylinder…