How Fast is a Ferrari? 0-60 MPH Times & Top Speeds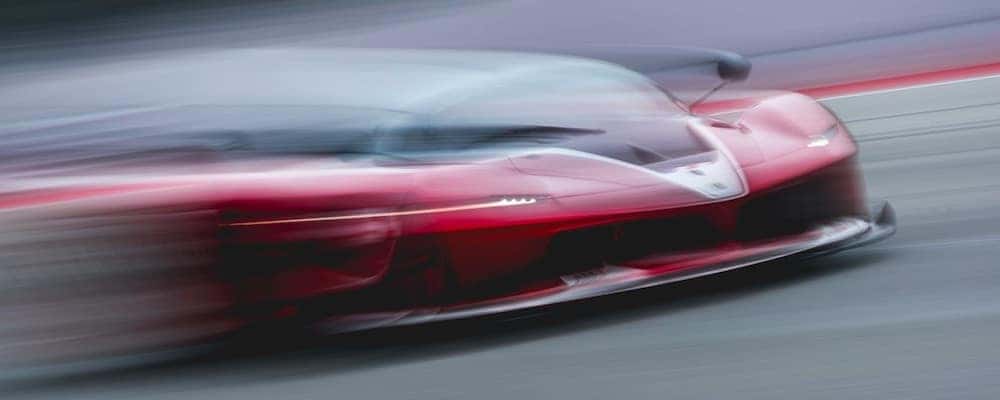 From the very first Ferrari to the latest Ferrari models, drivers from Chicago and beyond are entranced by the power and capability that Ferrari models have to offer. When browsing through our inventory of Ferrari vehicles, many shoppers ask, "How fast is a Ferrari?" and we're here to help answer that question. We know there's more to a car than its speed, but we also know that few cars can compare to a Ferrari's hand-assembled engines. Today, Ferrari Lake Forest is here to break down the Ferrari top speeds and go over the Ferrari 0-60 mph times.
How 0-60 MPH Times Are Calculated
Before we answer, "How fast is a Ferrari?" it's important to go over how Ferrari 0-60 mph times are calculated. 0-60 mph times are commonly used to help shoppers from Indianapolis, IN and elsewhere benchmark the performance of a vehicle. In almost every case, 0-60 mph times are measured by a professional in a closed course setting. The closed course typically is set up to reduce any variables including wind, weather, traction, etc.
Once the vehicle is set up safely on the track, there's a trained team using professional tools to track the precise timing of a vehicle's 0-60 mph time. For most drivers, a 0-60 mph time of around 5-seconds is more than enough speed. However, from the Ferrari 360 Modena 0-60 mph times to the Ferrari F8 Spider 0-60 mph times, you're looking at performance that's well under the 5-second range thanks to impressive launch control systems and high levels of engineering.
Ferrari 0-60 MPH Times
The Ferrari lineup is one of the fastest in the world, and these Ferrari 0-60 mph times clearly leave the competition as a speck in your rearview mirror. Combine their already impressive engines with advanced launch control systems and it's easy to see why the Ferrari 0-60 mph times are so spectacular. Before experiencing the extraordinary performance behind the wheel of a Ferrari on Minneapolis, MN adventures, let's take a look at some 0-60 mph times for popular Ferrari models:
360 Modena 0-60: 3.7 seconds
360 Spider 0-60: 3.8 seconds
458 Speciale 0-60: 2.9 seconds
458 Italia 0-60: 3.0 seconds
458 Spider 0-60: 3.3 seconds
California 0-60: 3.4 seconds
California T 0-60: 3.3 seconds
488 GTB 0-60: 3.0 seconds
488 Pista 0-60: 2.85 seconds
488 Spider 0-60: 3.0 seconds
812 Superfast 0-60: 2.9 seconds
GTC4Lusso 0-60: 3.4 seconds
GTC4Lusso T 0-60: 3.5 seconds
LaFerrari 0-60: 2.4 seconds
LaFerrari Aperta 0-60: 2.8 seconds
Portofino 0-60: 3.5 seconds
Portofino M 0-60: 3.4 seconds
SF90 Stradale 0-60: 2.5 seconds
SF90 Spider 0-60: 2.5 seconds
F8 Tributo 0-60: 2.9 seconds
F8 Spider 0-60: 2.9 seconds
Roma 0-60: 3.4 seconds
Monza SP1 0-60: 2.9 seconds
Monza SP2 0-60: 2.9 seconds
812 Competizione 0-60: 2.8 seconds
812 Competizione A 0-60: 2.8 seconds
812 GTS 0-60: 3.0 seconds
296 GTB 0-60: 2.9 seconds
How Fast Does a Ferrari Go? Top Speeds
Whether it's the Ferrari LaFerrari 0-60 mph time or the 0-60 mph time of other Ferrari models, that's only one part of the equation to the question, "How fast is a Ferrari?" The other part of the equation is their top speed figures. These Ferrari top speeds fill in the details and ensure that whatever color Ferrari you drive, others will see a blur.
360 Modena: 183 mph
360 Spider: 180 mph
458 Speciale: 202 mph
458 Italia: 202 mph
458 Spider: 199 mph
California: 193 mph
California T: 196 mph
488 GTB: 205 mph
488 Pista: 211 mph
488 Spider: 203 mph
812 Superfast: 211 mph
GTC4Lusso: 208 mph
GTC4Lusso T: 199 mph
LaFerrari:218 mph
LaFerrari Aperta: 218 mph
Portofino: 200 mph
Portofino M: 200 mph
SF90 Stradale: 211 mph
SF90 Spider: 211 mph
F8 Tributo: 211 mph
F8 Spider: 211 mph
Roma: 199 mph
Monza SP1: 186 mph
Monza SP2: 188 mph
812 Competizione: 211 mph
812 Competizione A: 211 mph
812 GTS: 211 mph
296 GTB: 205 mph
Ferrari Horsepower
What kinds of specs let these models deliver such devastating performance?
360 Modena hp: 400
360 Spider hp: 400
360 Challenge Stradale hp: 425
458 Speciale hp: 597
458 Italia Coupe hp: 562
California hp: 453 hp
California T hp: 553 hp
488 GTB hp: 661
488 Pista hp: 711
488 Spider hp: 711
812 Superfast hp: 789
GTC4Lusso hp: 602
GTC4Lusso T hp: 680
LaFerrari hp: 789
LaFerrari Aperta hp: 789
Portofino hp: 591
Portofino M hp: 612
SF90 Stradale hp: 986
SF90 Spider hp: 986
F8 Tributo hp: 710
F8 Spider hp: 710
Roma hp: 612
Monza SP1 hp: 809
Monza SP2 hp: 809
812 Competizione hp: 819
812 Competizione A hp: 819
812 GTS hp: 789
296 GTB hp: 818
Looking for a chronicle of performance across the history of the brand? Check out our history of Ferrari horsepower in production models.
Discover Ferrari Performance Specs Firsthand
The numbers tell you where to start when looking for a Ferrari in Lake Bluff, but numbers will only get you so far. When you want to see what it really feels like to sit behind the wheel of one of the finest automobiles in the world, contact Ferrari Lake Forest.
More From Ferrari Lake Forest
From the very first Ferrari to the latest Ferrari models, drivers from Chicago and beyond are entranced by the power and capability that Ferrari models have to offer. When browsing through our inventory of Ferrari vehicles, many shoppers ask, "How fast is a Ferrari?" and we're here to help answer that question. We know there's…

If you have to ask how much a Ferrari costs, it may not be the car for you. An investment in aesthetics and performance, a Ferrari is more than an automobile; it's a marker of excellence. Models like the Ferrari Portofino M can start in the lower $200,000s while the Ferrari F8 Tributo and other…

The Ferrari 296 GTB is already making waves and dividing past and future with the first 120-degree V in a Ferrari production car. But if you're seeking more, the Ferrari 296 GTB Assetto Fiorano is for you. Experience performance to the utmost with this upgrade package for the berlinetta. Learn More Contact Us Uncompromising, Maximum…