How Much Does a Ferrari Cost?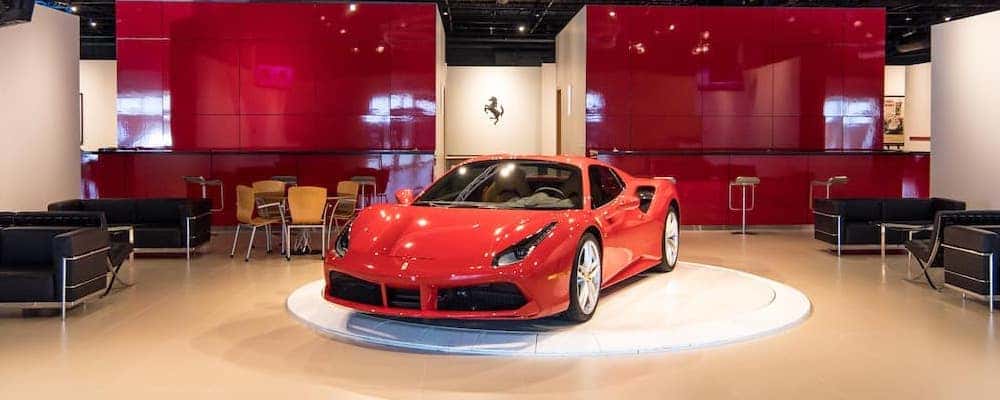 If you have to ask how much a Ferrari costs, it may not be the car for you. An investment in aesthetics and performance, a Ferrari is more than an automobile; it's a marker of excellence. Models like the Ferrari Portofino M can start in the lower $200,000s while the Ferrari F8 Tributo and other iconic Ferrari models start in the high-$200,000s. The cost of your Ferrari will depend on the personal touches and bespoke options you add to it, which is what makes Ferrari models so special. Learn more about the cost of a Ferrari model today at Ferrari Lake Forest and visit us to find out which one best suits your Chicago lifestyle.
The Value of a Ferrari
"How much does a Ferrari cost?" asks the wrong kind of question. For nearly a century, Ferrari has produced automobiles that encourage people to rethink what a car can be:
Performance: precision-optimized.
Style: impeccable.
Luxury: beyond reproach.
Value: priceless.
This was the case in 1939 when Enzo Ferrari broke from Alfa Romeo's racing division, in 1947 when the first Ferrari-badged automobile was produced, and today, in the Ferrari Lake Forest showroom.
What Is the Cheapest Ferrari?
Ferrari vehicles are an investment. Almost any car enthusiast or Indianapolis, IN driver that appreciates the finer things in life have a Ferrari vehicle on their bucket list. While it's natural to wonder, "What is the cheapest Ferrari?" or, "How much is the cheapest Ferrari?" it's important to remember that Ferrari vehicles are much more than their price tag. Get behind a Ferrari model, new or classic, and you'll instantly realize this.
With that being said, if you're still wondering how much is the cheapest Ferrari? We've got you covered. Although these Ferrari models may have a lower cost, they offer an incredible amount of performance and exceptional engineering to upgrade your Minneapolis, MN adventures. Here are some models that we think you should opt for:
Ferrari Portofino
The Ferrari Portofino is technically the successor of the well0loved Ferrari California T. It features a retractable hardtop convertible so that you're ready for any occasion. Combine that with almost 600 hp and an opulent cabin and it's clear that this is the perfect Ferrari for almost anyone.
Ferrari Roma
Modern, stunning, and lean are just some highlights of the Ferrari Roma. Its exhaust note is incredible and you'll want to spend all day listening to its engine roar. You truly can't go wrong with the high-performing Ferrari Roma.
Ferrari F8 Tributo
Pure performance and excellent design make the Ferrari F8 Tributo an excellent choice for those that want an outstanding daily driver. With a well-regarded chassis and absolutely handsome design, there's plenty to appreciate about the Ferrari F8 Tributo.
The Legacy of Ferrari Lake Forest
Ferrari has made a name for itself — in fact, Brand Finance named it the most powerful brand in 2014 — but you will find something more when you first drive home from Ferrari Lake Forest. In 1923, Benjamin Mancuso started the family in the auto business, and in 1981, Rick Mancuso started what would become Ferrari Lake Forest in a small but charming storefront in downtown Lake Forest.
Three generations of automobile lovers have brought us here, to our newly renovated 70,000 square foot facility. The confidence, dedication, and integrity of the Mancuso family are ingrained in Ferrari Lake Forest, and you become a part of that family when you find your Ferrari here.
Discover Yours at Ferrari Lake Forest
We've only just skimmed the surface on which Ferrari model you deserve to drive during your Lake Bluff travels. Discover your dream Ferrari model today at Ferrari Lake Forest and we promise you won't be let down. We know why some drivers ask "How much does a Ferrari cost?" But, we think better questions to ask are "Which Ferrari should I drive?", "How fast is a Ferrari?", or "Should I pursue a classic or modern Ferrari California?" Discover yours at Ferrari Lake Forest, and we can talk about the price and financing options once we find the exact model and features for you.
More From Ferrari Lake Forest
From the latest Ferrari models to classic Ferrari vehicles, driving around Chicago in a Ferrari is a memorable experience that you won't forget. But, what if you want to bring along friends and family with you so that they too can experience what it's like to be in a Ferrari? Soon, you'll be able to…

The Ferrari 296 GTB is a pivotal vehicle for the Ferrari lineup as it features a powerful turbocharged V6 hybrid engine that provides the latest advancements in Ferrari technology while also delivering the driving experience only found in Ferrari vehicles. Combine that with the impressive cabin the Ferrari 296 GTB offers and it's clear that…

When it comes to your dream car, money is likely no object. The experience of getting behind the wheel of a brand new Ferrari is well worth every penny for a seasoned auto enthusiast around Chicago and Indianapolis, IN. But, many savvy shoppers ask us "What are the cheapest Ferrari models you can buy in…