Ferrari Portofino Interior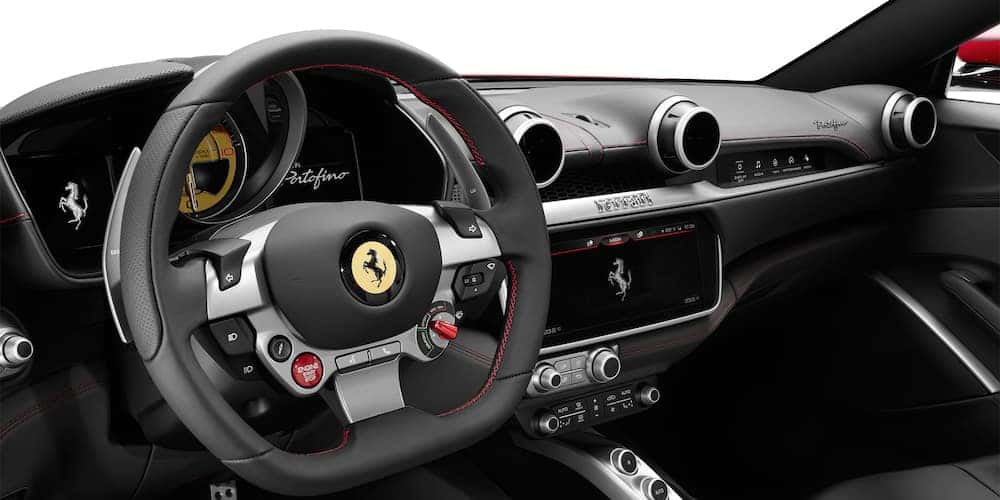 With an exterior engineered to turn heads, it should come as little surprise that the Ferrari Portofino interior is similarly elegant. Taking design cues from the outgoing California T, the Portofino interior offers a smoother look and feel, designed to make the most of its space to allow drivers and passengers alike more room to get comfortable.
Ferrari Portofino Interior Features
Building out the Ferrari Portofino interior to your exact specifications, knowing you will be cruising around Chicago in your unique comfort and style, is part of the joy of owning a Ferrari. When speccing out your Portofino interior at Ferrari Lake Forest, you can choose from:
Seating: Sit comfortably in the standard seating or upgrade to Daytona Seats or Diamond Stitching Seats.
Interior Color: Fifteen shades can define the interior of your Portofino. Choose from Tortora, Charcoal, Carta Da Zucchero, Blu Medio, Blu Sterling, Black, Terra Bruciata, Iroko, Cioccolato, Bordeaux, Rosso Ferrari, Cuoio, Beige Tradizione, Sabbia, and Crema.
Revcounter: Personalize every aspect of your Portofino, even the revcounter. Select one of five options: Standard, Aluminium, Red, White, or Yellow.
Carpet Colors: Complement or contrast your interior color with nine carpet colors: Black, Blue, Testa Di Moro, Dark Grey, Castoro, Nuovo Cuoio, Red, Bordeaux, and Otranto.
Floor Mats: Select the standard floor mat or opt for more with the available Ferrari-embroidered floor mats.
Interior Upgrades: Give your co-pilot extra control with the available passenger display or add on a sleek personal touch with the available carbon interior.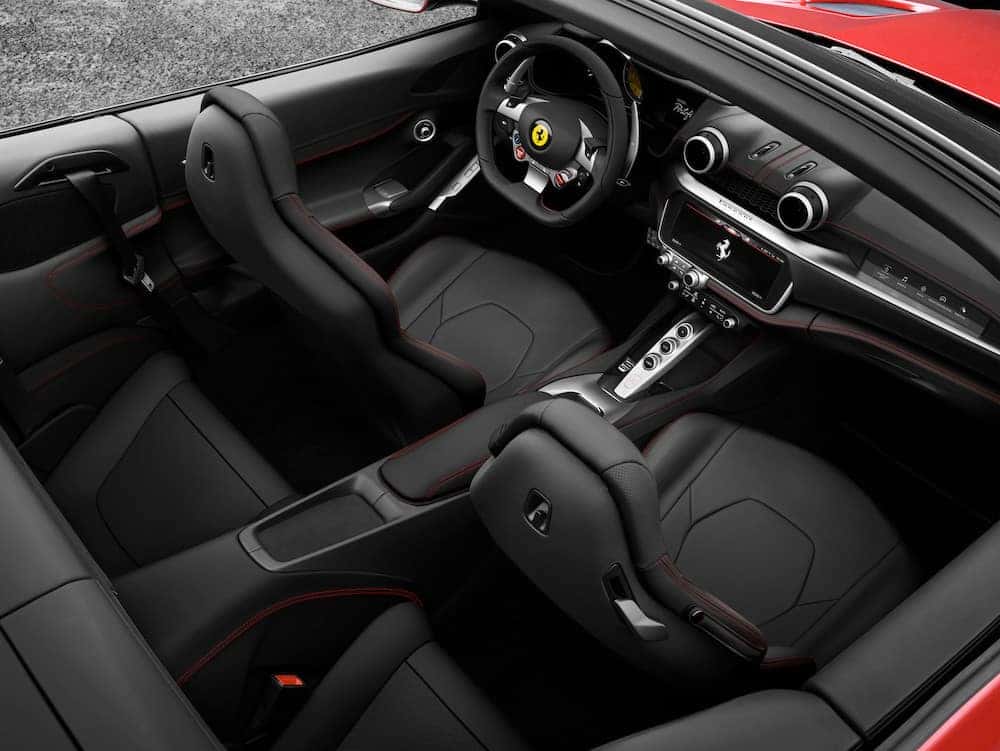 Ferrari Portofino Interior Reviews
The only way to truly know a Ferrari Portofino is to get behind the wheel yourself, but until that day comes, here's what some of the pros have to say about the Portofino interior:
Car and Driver: "The cabin is well-suited for sporty driving with a flat-bottomed steering wheel featuring integrated ignition and drive-mode switches, a partially digital gauge display with a large central-mounted tachometer, and simple secondary controls."
Autoweek: "The important things are still here, of course: impressive power-to-weight ratio, crazy-high specific output, studied aerodynamics, Italian design and flair. There are new pieces of technology, too, though they aren't always visible to the naked eye." Autoweek highlighted 5 unique features, including interior updates like the passenger video display and magnesium seat frames.
TopSpeed: "The 18-way adjustable seats have a new backrest design that enhances legroom for rear passengers, while the new air conditioning system improves comfort both with the top up or down. There's also a new wind deflector which, when the top is dropped, cuts air flow inside the cabin by 30% and also reduces aerodynamic noise."
Looking for more on the successor to the California? We have Ferrari Portofino review highlights that expand beyond the interior comforts.
Discover Your Ferrari at Ferrari Lake Forest
We at Ferrari Lake Forest think it's essential for a driver to sit in the cockpit of a Ferrari before making any decisions. Let us show you a new Ferrari Portofino interior firsthand so you can make the right choices on upholstery and features. Contact us today to get started on your way to a new Portofino.
Learn More About the Ferrari Portofino
From the very first Ferrari to the modern lineup to future vehicles, drivers are entranced by the power and capability — and their first question is usually "how fast is a Ferrari?" We know there's more to a car than its speed, but we also know that few cars can compare to a Ferrari's hand-assembled…

With an exterior engineered to turn heads, it should come as little surprise that the Ferrari Portofino interior is similarly elegant. Taking design cues from the outgoing California T, the Portofino interior offers a smoother look and feel, designed to make the most of its space to allow drivers and passengers alike more room to…

To understand a vehicle like the Ferrari Portofino, one simply must drive it. The next best thing to sitting behind the wheel is hearing from someone who has been there and understands what one should expect from a Ferrari. So we bring you some of the best Ferrari Portofino reviews, from critics who drive and…