Ferrari 488 GTB Interior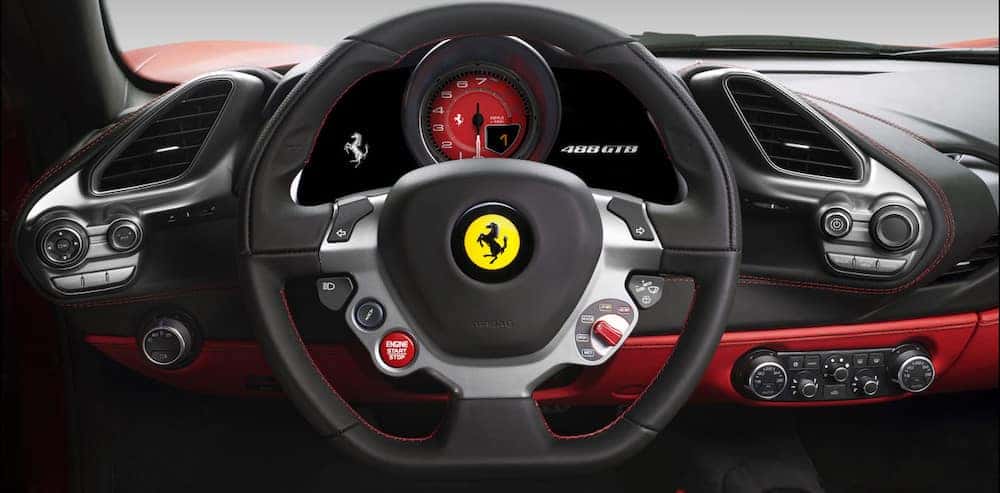 The head-turning silhouette of the 488 GTB comes from its sculpted flanks and design nods to the original 308 GTB, while the Ferrari 488 GTB interior was designed to make a similar, lasting impression on anyone who sits in the cabin. Put simply, the 488 GTB cabin redefined what should be expected of a high-performance vehicle.
Redefining Essential: The Ferrari 488 GTB Interior
Every aspect of the Ferrari 488 GTB interior has been built around practicality, putting you in complete control of its 660-hp V8 without sacrificing comfort. Your most essential controls are clustered on the steering wheel, with remaining commands placed strategically within reach in the wraparound satellite pods — and angled directly toward the driver.
The design references typical traits of a Ferrari — a distinct separation between dashboard and tunnel, a multifunction steering wheel, a control bridge on the tunnel — while innovating the design specifically for the 488 GTB. Composed of premium, handcrafted materials, each Ferrari 488 GTB interior is unique, simultaneously elegant and sporty. New door panels and a more comfortable, ergonomic armrest are as much about style as comfort, with newly designed seating (sporting fixed headrests) to support cruising around Chicago or making laps on the track.
The Sport infotainment system of the 488 GTB marked a new direction for Ferrari technology, designed for ease of navigation.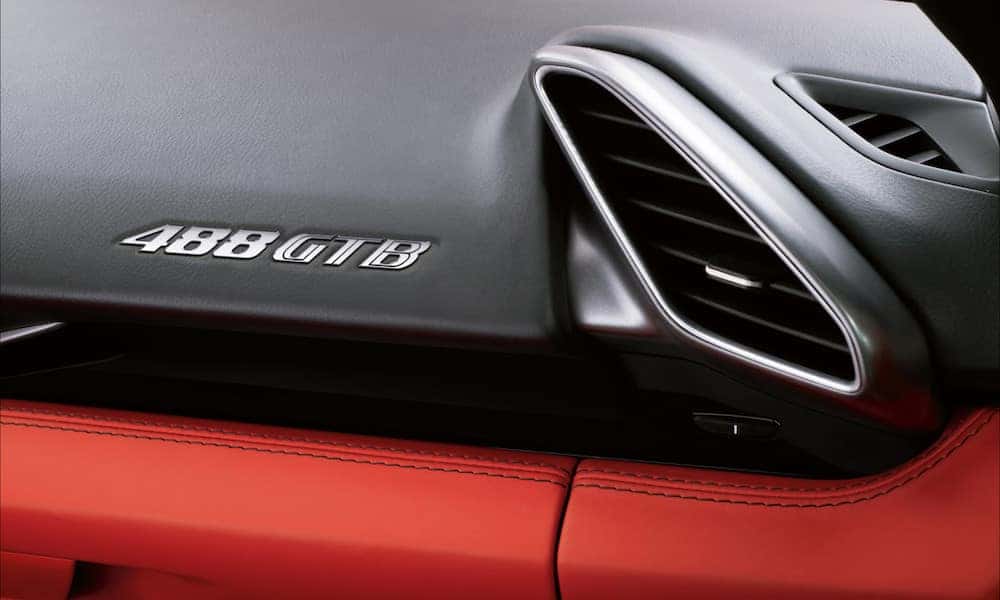 The Unique 488 GTB Interior
Each Ferrari 488 GTB interior has been customized and made unique through a selection of seating, colors, carpeting, and other design elements. When searching for your 488 GTB, you'll find combinations of these features:
Seating: Daytona, Diamond Pattern, Goldrake Racing, and Daytona Racing Carbon seating.
Interior Colors: Tortora, Charcoal, Carta Da Zucchero, Blu Medio, Blu Sterling, Black, Terra Bruciata, Iroko, Cioccolato, Bordeaux, Rosso Ferrari, Cuoio, Beige Tradizione, Sabbia, and Crema.
Carpet Colors: Black, Blue, Testa Di Moro, Dark Grey, Castoro, Nuovo Cuoio, Red, Bordeaux, and Otranto.
Rev Counter: Standard, Aluminium, Red, White, and Yellow.
Floor Mats: Standard or Ferrari-embroidered with "488 GTB."
Interior Upgrades: Carbon interior design and passenger LCD display.
Find a Ferrari 488 GTB with Ferrari Lake Forest
Have a specific Ferrari 488 GTB interior in mind? Contact our team so we can help you find it. Not sure which Ferrari is right for you? Compare the 488 GTB against the 458 Italia or the 458 Speciale.
More From Ferrari Lake Forest
The 2023 Ferrari Purosangue is more than an SUV — it's the first SUV produced by Ferrari, a Ferrari Utility Vehicle, if you will. While Ferrari's new SUV is sure to turn heads around Chicago if you're out running errands, it's a Ferrari. Performance and handling will be unlike any other vehicle in its class;…

Ferrari Lake Forest is giving away a Ferrari suitcase made of fine Italian leather ($3,700 value) and offering a VIP tour (with COVID precautions) of our showroom to one lucky individual. How to Enter Like this post Follow @ferrarilakeforest on Instagram Share this post on your IG story using #FLFgiveaway Tag at least 5 friends Make sure all 5 friends…

The 812 Superfast debut put many so-called performance cars to shame and put supercars on notice — and the release of the 812 GTS convertible gave Chicago aficionados the thrills of 800 hp with the top down. While automobiles like the SF90 Stradale have since delivered some superior numbers, the 812 Superfast specs are still…