Ferrari GTC4Lusso T Interior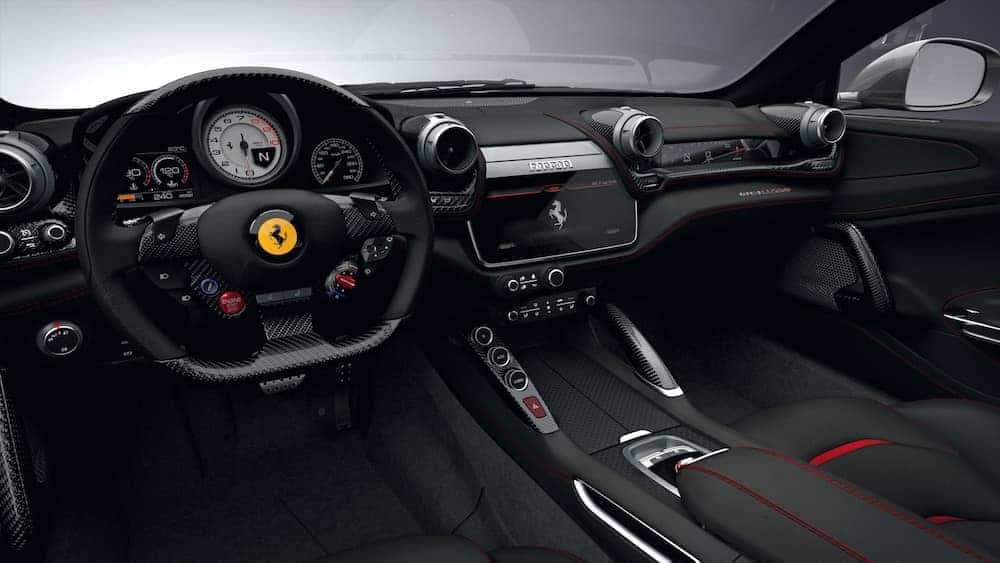 The GTC4Lusso T is a further refinement of the classic Lusso, taking the shooting brake coupe and reinterpreting it into a tapered, streamlined shape. The result is a Ferrari with an almost fastback-like silhouette, and the GTC4Lusso T interior bears precision design and engineering to match.
Ferrari GTC4Lusso T Interior Design
A triumph of sporty luxury, the Ferrari GTC4Lusso T interior starts with its unique dual cockpit architecture.
The entire driver cockpit has been redesigned, starting with a more compact steering wheel. The smaller size allows for a more visible instrument cluster, keeping you abreast of your performance specs with just a glance. The GTC4Lusso T interior's controls will feel different as well, with new shapes, function and positioning for superior ergonomics and improved ease of use.
While the joy of driving a Ferrari will still belong to the driver, this design allows for a shared driving experience with a passenger cockpit. The central divider sports comfort-oriented controls for easy driver and passenger access, while softer armrests, larger storage compartments, and a dedicated LCD touchscreen ensure your passenger's time in the GTC4Lusso T is unparalleled.
Innovations in Onboard Comfort
Road noise fades away in the sanctity of the GTC4Lusso T cabin, with interior acoustics refined to deliver a serene drive without sacrificing the signature engine note of a Ferrari. By improving the rigidity of the chassis attachment points, upgrading the climate control system, and improving filtering and damping of intrusive noise, Ferrari has ensured you'll hear just what matters: your audio system, conversation with your passenger, and the stunning 3.9L twin-turbo V8.
To ensure top comfort behind the wheel of the GTC4Lusso T, engineers nearly doubled the number of climate control sensors and added a new Rain LightAntiFogging Solar Sensor (RLFSoSe). The result is an automobile that is better attuned to your needs and delivers your desired temperature 25% faster.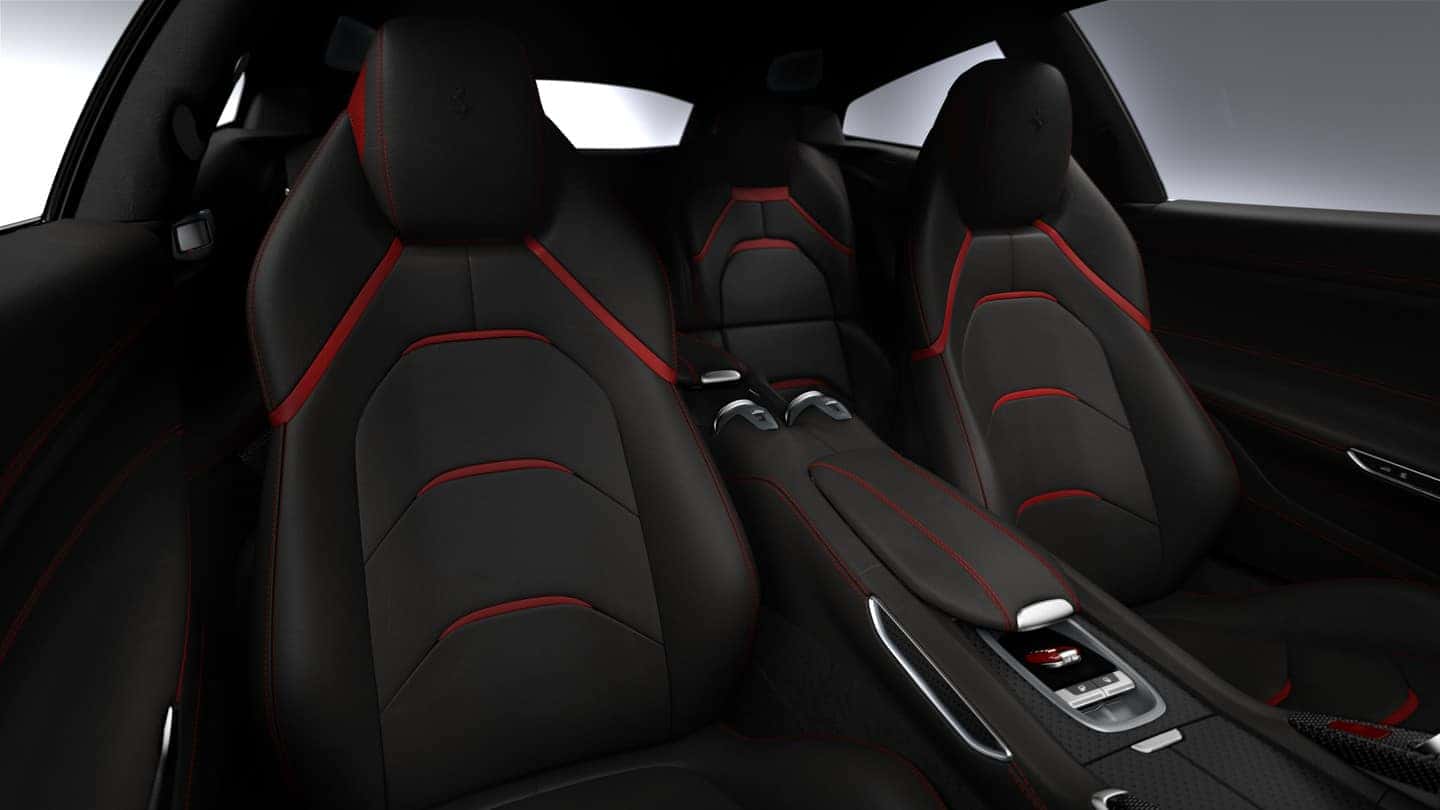 Personalizing the GTC4Lusso T Interior
With every inch of the Ferrari GTC4Lusso T interior designed toward your satisfaction, you should of course expect to be able to customize each element. Chicago drivers looking to personalize their new Ferrari can select from:
Seating: Choose from standard, Daytona, or Diamond Pattern seating.
Interior Color: Bring your personal style to the GTC4Lusso T interior with one of fifteen hues: Tortora, Charcoal, Carta Da Zucchero, Blu Medio, Blu Sterling, Black, Terra Bruciata, Iroko, Cioccolato, Bordeaux, Rosso Ferrari, Cuoio, Beige Tradizione, Sabbia, or Crema.
Rev Counter: Select from five rev counter designs: Standard, Aluminium, Red, White, or Yellow.
Carpet Colors: Pair your interior color with one of nine carpet colors: Black, Blue, Testa Di Moro, Dark Grey, Castoro, Nuovo Cuoio, Red, Bordeaux, or Otranto.
Floor Mats: Choose between standard floor mats or Ferrari-embroidered mats bearing the GTC4Lusso T name.
Interior Upgrades: Put the final touches on with an available carbon interior and passenger LCD display.
Find Your Ferrari
The unique cockpit design of the Ferrari GTC4Lusso T interior simply demands to be experienced. Compare the GTC4Lusso to the GTC4Lusso T, then contact our team to get started on your way toward owning a new Ferrari.
More From Ferrari Lake Forest
The 2023 Ferrari Purosangue is more than an SUV — it's the first SUV produced by Ferrari, a Ferrari Utility Vehicle, if you will. While Ferrari's new SUV is sure to turn heads around Chicago if you're out running errands, it's a Ferrari. Performance and handling will be unlike any other vehicle in its class;…

Ferrari Lake Forest is giving away a Ferrari suitcase made of fine Italian leather ($3,700 value) and offering a VIP tour (with COVID precautions) of our showroom to one lucky individual. How to Enter Like this post Follow @ferrarilakeforest on Instagram Share this post on your IG story using #FLFgiveaway Tag at least 5 friends Make sure all 5 friends…

The 812 Superfast debut put many so-called performance cars to shame and put supercars on notice — and the release of the 812 GTS convertible gave Chicago aficionados the thrills of 800 hp with the top down. While automobiles like the SF90 Stradale have since delivered some superior numbers, the 812 Superfast specs are still…