Ferrari GTC4Lusso Interior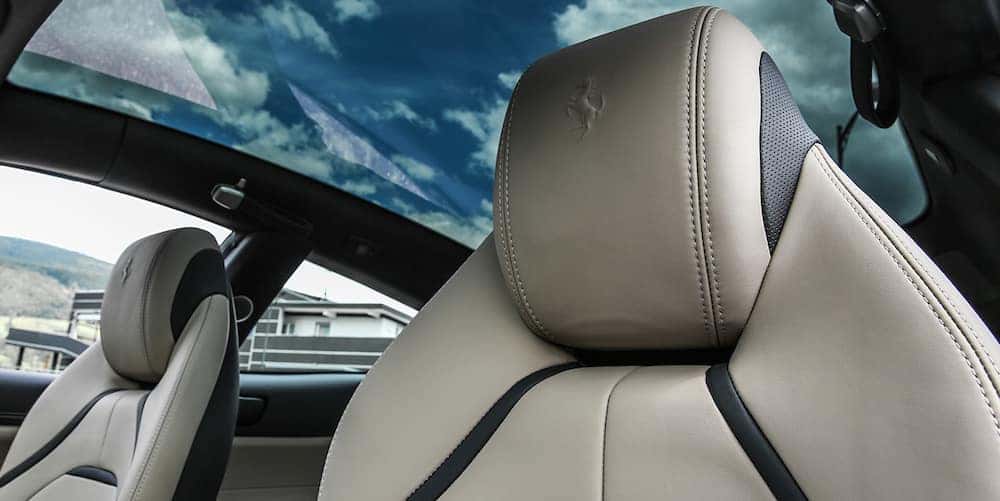 The Ferrari GTC4Lusso interior makes bold moves: a dual-cockpit design in the front and LATCH child safety seat anchors in the back. A grand tourer with the capabilities to hit the pavement in each of the four seasons, the GTC4Lusso promises Chicago drivers a Ferrari that's ready for the everyday — without sacrificing what makes it a Ferrari. When it comes to the GTC4Lusso interior, that means the premium materials and attention to detail of a world-class vehicle.
Ferrari GTC4Lusso Interior Technologies
As part of the dual-cockpit architecture, the entire driver's side interface has been redesigned, with a more compact steering wheel that allows the dash to be more visible. Controls have been improved for ergonomics and overall ease of use.
The Ferrari GTC4Lusso interior delivers superior acoustics than the FF thanks in part to additional insulation to minimize noise (don't worry, you'll still hear and feel the signature engine note of the Ferrari V12). Noise reduction also comes from increased rigidity at the chassis attachment points and an upgraded climate control system.
The GTC4Lusso also brings an upgraded infotainment system to Chicago, with ultra-intuitive controls. A 10.25-inch full HD capacitive touchscreen can be managed via the screen or with the available rollers and buttons. Split the view to manage media or bring up the satellite navigation with 3D mapping.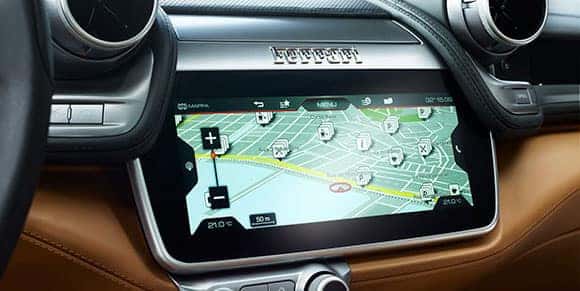 Customizing Your Ferrari GTC4Lusso Interior
When it's time to personalize your Ferrari GTC4Lusso interior, you'll have over a thousand different combinations:
Seating Choices (3): Standard Seats, Daytona Seats, and Diamond Stitching Seats.
Interior Colors (15): Tortora, Charcoal, Carta Da Zucchero, Blu Medio, Blu Sterling, Black, Terra Bruciata, Iroko, Cioccolato, Bordeaux, Rosso Ferrari, Cuoio, Beige Tradizione, Sabbia, and Crema.
Revcounter (5): Standard, Aluminium, Red, White, and Yellow.
Carpeting (9): Black, Blue, Testa Di Moro, Dark Grey, Castoro, Nuovo Cuoio, Red, Bordeaux, and Otranto.
Floor Mats (2): Standard and Ferrari-embroidered floor mats.
Find the Ferrari GTC4Lusso at Ferrari Lake Forest
The dual-cockpit design of the Ferrari GTC4Lusso interior establishes it as truly unique in the automotive world. Discover the automobile that can walk the line between high-performance Ferrari and a practical grand tourer that seats 4. Contact Ferrari Lake Forest to learn more about the GTC4Lusso.
Learn More About the Ferrari GTC4Lusso
From the very first Ferrari to the modern lineup to future vehicles, drivers are entranced by the power and capability — and their first question is usually "how fast is a Ferrari?" We know there's more to a car than its speed, but we also know that few cars can compare to a Ferrari's hand-assembled…

The Ferrari GTC4Lusso interior makes bold moves: a dual-cockpit design in the front and LATCH child safety seat anchors in the back. A grand tourer with the capabilities to hit the pavement in each of the four seasons, the GTC4Lusso promises Chicago drivers a Ferrari that's ready for the everyday — without sacrificing what makes…

In order to understand a Ferrari, one must drive a Ferrari. Until you can make it out to Ferrari Lake Forest to put it to the test, we have Ferrari GTC4Lusso reviews from some of the biggest names in the auto world to tide you over. They know how fast a Ferrari should go, what it should…