Ferrari 296 GTB Interior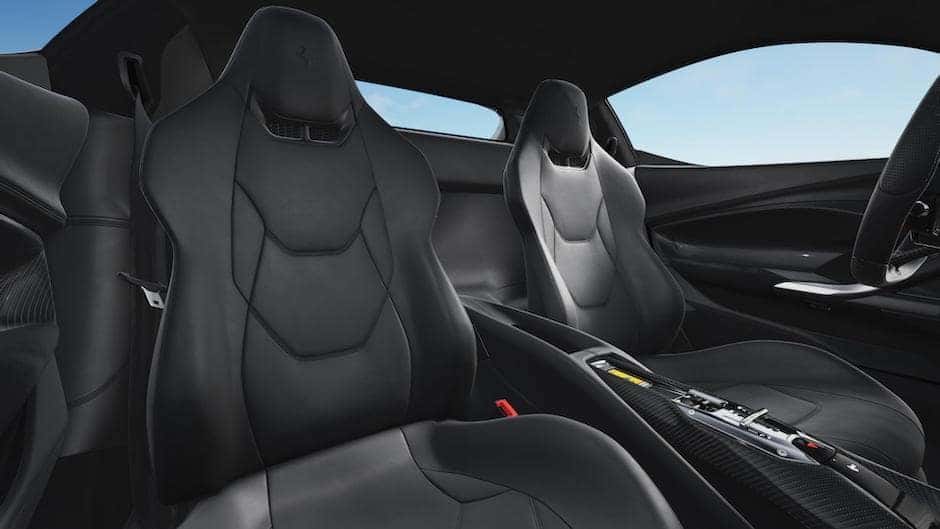 The Ferrari 296 GTB cockpit was developed around the concept of an entirely digital interface, which debuted on the SF90 Stradale. The key difference is that while the SF90 highlighted the advanced technology to draw a line between past and future, the 296 GTB clothes that tech for a minimalistic design: technology without compromising aesthetics.
Design Inspiration
Your first impression of the GTB interior will be one of minimalism: the onboard instruments go black when the engine is off for a sleek, uninterrupted design until the engine comes to life. The exclusive Italian leather trim and the elegant curves of the cabin are the focus until you sit in the driver's seat and touch that "Start Engine" button — also smoothly blended into the cabin aesthetics as a flush, capacitive touch button.
After touching the "Start Engine" button, the 296 GTB wakes up, gradually springing to life as the technology and displays turn on. Every inch of the cabin is seamless, with a HUD integrated into the leather trim and speaker elements with thermoplastic covers that match the color of the dash.
Configure Your Ferrari 296 GTB Interior
You'll have free reign to personalize your cabin, including 5 seating styles, 15 interior colors, and your choice of carpeting in standard, tone-on-tone leather, or a combination of tone-on-tone leather and Alcantara.
Seating styles include:
Standard Seats
Style Seats
Daytona Seats
Standard Racing Carbon Seats
Daytona Racing Carbon Seats
Choose your interior color from:
Tortora
Charcoal
Carta da Zucchero
Blu Medio
Blu Sterling
Nero
Terra Bruciata
Iroko
Cioccolato
Bordeaux
Rosso Ferrari
Cuoio
Beige Tradizione
Sabia
Crema
Available carbon interior upgrades and embroidered floor mats deliver even more options, and you can configure your 296 GTB in-person or remotely with Ferrari Lake Forest.
Configure Your Ferrari at Ferrari Lake Forest
Ferrari Lake Forest is proud to be your Chicago Ferrari dealer, and we want to help you build a 296 GTB that's trimmed out to your specs. Contact us today to get started.
More From Ferrari Lake Forest
From the very first Ferrari to the latest Ferrari models, drivers from Chicago and beyond are entranced by the power and capability that Ferrari models have to offer. When browsing through our inventory of Ferrari vehicles, many shoppers ask, "How fast is a Ferrari?" and we're here to help answer that question. We know there's…

If you have to ask how much a Ferrari costs, it may not be the car for you. An investment in aesthetics and performance, a Ferrari is more than an automobile; it's a marker of excellence. Models like the Ferrari Portofino M can start in the lower $200,000s while the Ferrari F8 Tributo and other…

The Ferrari 296 GTB is already making waves and dividing past and future with the first 120-degree V in a Ferrari production car. But if you're seeking more, the Ferrari 296 GTB Assetto Fiorano is for you. Experience performance to the utmost with this upgrade package for the berlinetta. Learn More Contact Us Uncompromising, Maximum…