Ferrari 812 GTS Interior – A Different Level of Immersion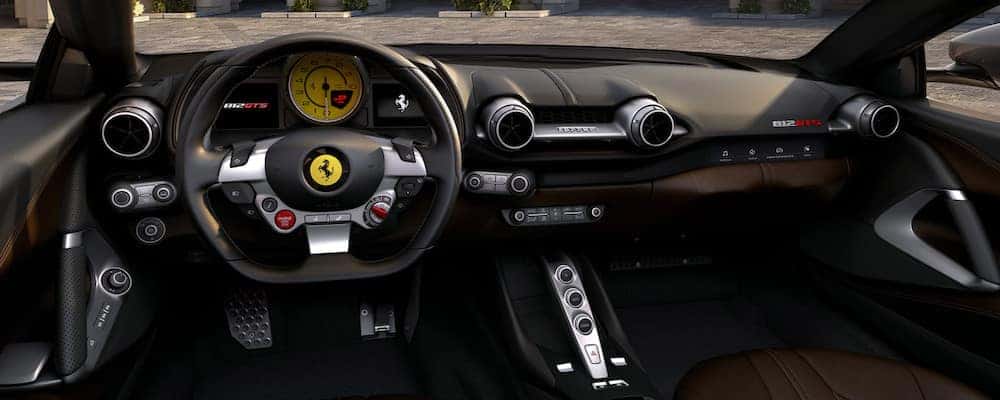 The Ferrari 812 Superfast is a fantastic choice for when you're ready to curb your need for speed on the track. It's beautiful to look at and features a powerful naturally aspirated V12 engine. But, climb inside and you'll immediately appreciate the level of refinement, sportiness, and opulence that it offers. However, those looking for a more immersive driving experience around Chicago are in for a treat. Introducing the Ferrari 812 GTS.
It's a drop-top version of the Ferrari 812 Superfast and features many of the same advantages that make the Ferrari 812 Superfast such a popular choice among enthusiasts. With that being said, the Ferrari 812 GTS provides open-air freedom so that you can really hear that naturally aspirated V12 sing on the open roads. Get a tour of the impressive Ferrari 812 GTS interior today with the team at Ferrari Lake Forest! We're more than happy to help you explore the Ferrari 812 interior up close.
Ferrari 812 GTS Interior: Colors & Design
Drive around Indianapolis, IN in a Ferrari 812 GTS and you're sure to turn heads wherever you go. Its exterior design is unlike anything else on the road and that exhaust note is simply hard to ignore. But, while you're busing drawing praise from those around you, you can marvel at the level of refinement found inside of this Ferrari 812 interior. With high-quality materials all around like carbon fiber and a sporty yet sophisticated design, this interior cockpit will forever be timeless. If you want a sophisticated sports car that maximizes comfort and style, the Ferrari 812 GTS won't disappoint. Let's take a look at some of the colors available that make the interior of the Ferrari 812 GTS so memorable:
Interior Color
Tortora
Charcoal
Carta Da Zucchero
Blu Medio
Blu Sterling
Nero
Terra Bruciata
Iroko
Cioccolato
Bordeaux
Rosso Ferrari
Cuoio
Beige Tradizione
Sabbia
Crema
Revcounter Colors
Standard
Aluminum
Red
White
Yellow
Carpet Colors
Nero
Blu
Testa Di Moro
Grigio Scuro
Castoro
Nuovo Cuoio
Ferrari 812 GTS Interior: Features & Highlights
Style and design are just the beginning of how the Ferrari 812 GTS draws you in for an exciting Minneapolis, MN adventure. Opt for the carbon interior upgrade and you'll really be taking things to the next level inside of the Ferrari 812 GTS.
In addition to sporty touches like a larger center tachometer, so you can easily watch your revs, you'll get to enjoy modern amenities that range from an automatic climate control system, drive mode selector, and even digital instrument cluster screens! There's a lot to appreciate in terms of features and highlights inside of the Ferrari 812 GTS and we suggest seeing it in person to really understand what makes it so special.
Discover a Ferrari 812 Interior Today at Ferrari Lake Forest!
We've only skimmed the surface on everything that makes the Ferrari 812 GTS interior stand out. Come to Ferrari Lake Forest today for an unforgettable experience and discover everything that you'll be able to enjoy on Lake Bluff drives with a Ferrari 812 GTS. If you have any questions, don't hesitate to reach out!